Synopsis
Agou and Emélie live together in a small one-piece in Bangui, Central African Republic. They are young, Emelie is expecting a child and they are dreaming theirselves as in an american tv show. But Agou work as a moto-taxi and is barely making a living. After a moto accident, how are they going to pay for the hospital when the baby will come ?
Direction : Rafiki Fariala
Image : Rafiki Fariala
Sound : tous les stagiaires
Edition : Gilles Volta
Rewards, festivals and diffusions
Festival du Cinéma africain de Lausanne
Place : Lausanne, Switzerland
Date : 2018
FIPADOC
Place : Biarritz, France
Date : 2019
PCMMO - Panorama des Cinémas du Maghreb et du Moyen-Orient
Place : Saint-Denis, France
Date : 2019
Seytou Africa Festival
Place : Paris, France
Date : 2019
Festival Reflets des cinéma africains
Place : Mayenne, France
Date : 2020
"Un pays sans sommeil" Exhibition
Place : Saint-Ouen-sur-Seine, France
Date : 2022
About : Workshops in Central African Republic
In 2017, Ateliers Varan and the Alliance Française in Bangui organised a first filmmaking workshop in the Central African Republic.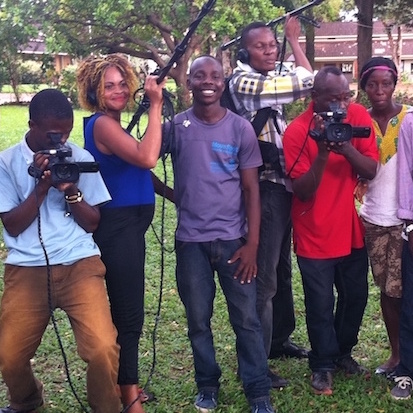 The documentary in your own home
Find out about new films by sifting through our media library to find all the films made in our workshops since 1978.